Call (215) 350-6594 for Abington Abington Tankless Water Heaters Service
Abington Abington Tankless Water Heaters
If it's time to get a new water heater in your Abington home, then it's time to think about having Quallet HVAC install an innovative, energy saving, space saving tankless water heater.
With a traditional water heater, 40 or 50 gallons of water is kept hot in a tank and released when a hot water spigot is opened. Why keep 40-50 gallons of water hot when you don't need it? It's expensive to continue to heat and re-heat water when you're not using it.
With a tankless water heater, there is no reservoir of hot water. When hot water is called for, water moves through the tankless water heater and is instantly heated. No more "running out of hot water"! You'll have enough hot water to load the laundry, start the dishes, bathe the kids and still have enough to enjoy a relaxing shower of your own.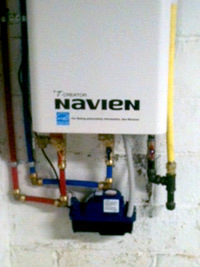 If you are not satisfied with any repair service, inspection, or installation that we provide, we will work with you until you are satisfied or provide a refund.