Call (215) 350-6594 for Abington Abington Fujitsu Halcyon Service
Abington Abington Fujitsu Halcyon
For 30 years, Fujitsu has been working hard to make the world a more comfortable place. Halcyon by Fujitsu is a new way to think about air conditioning and heating in the modern world. Now you can choose a high performance, permanent and easy to install air conditioning and heating system that quietly blends with your environment. As one of the top two mini-split air conditioner and heat pump manufacturers for North America, Fujitsu's innovation drives the success of the Halcyon line.
Fujitsu ductless mini-split systems are popular throughout the world. In a conventional central air system, the outdoor condensor is connected to an air handler usually located with your furnce, and the cool air is sent through your existing ductwork. With a mini-split, a more compact outdoor condensor unit is connected via a small (3" round) bundle of lines to an indoor wall or ceiling mounted air handler; there is no ductwork required. The compact indoor unit is nearly silent in operation and puts the air conditioning and heat exactly where you need it.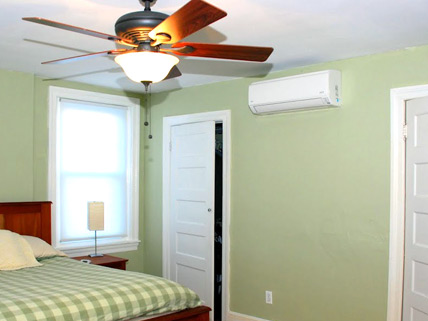 Since mini-splits have little to no ducting, they forego those energy losses typically associated central forced-air systems. Duct losses can easily account for more than 30% of energy consumption, especially if the ducts are not sealed tight or in an unconditioned space such as an attic or crawlspace. With ratings as high as 27-SEER (Seasonal Energy Efficiency Ratio), Fujitsu Halcyon systems are among the highest rated efficiency equipment available anywhere!
If you are not satisfied with any repair service, inspection, or installation that we provide, we will work with you until you are satisfied or provide a refund.